CNN right now is showing live, the Dalai Lama speaking on Capitol Hill. It's the ceremony in which he is accepting the Congressional Gold Medal. He's struggling his way through the speech because he wants so badly to do it in English, but he's making great light of the situation, lightly joking as he struggles through words like "Pelosi" and "Personable" and "intolerable".. Kind of funny - He just thanked President Bush for his kind friendship, and Bush just giggled, his face turned red, and he smiled this ridiculous goofy smile - not looking the D.L. in the face, but looking out into the crowd. He then thanked "Madam Speaker" (haha) for her support of Tibet and for her excellent representative skils, and she smiled, and gave one long nod and said, "Thank you". I'm glad someone knows how to treat one of the smartest, hardest working individuals on the planet. Bush's reactions tend to be so rude sometimes.
Anyway! So last weekend was fall break, and it was FABULOUS! I didn't want it to end! It started out with driving to Richmond, VA on Thursday night, where we stopped to stay at a hotel - a first for us. We are usually "marathoners" - we drive the whole thing all the way through. But we decided to treat ourselves to a night at the Hampton Inn (thanks Mr. Galbraith!) which was really actually pretty fun, the bed was HUGE! The only negative part was that Syd was forbidden to come into the hotel haha, so we made her up a really comfy bed in the car, and put one of Em's sweatshirts on her to keep her warm. I was really worried about her all night, but as you can see from the picture, she had a great night!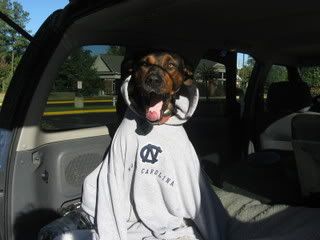 Friday we arrived into Wilmington and we drove to West Chester University in W.C., PA to pick up my sister/see her dorm, which was great! Friday night my mom took us to Red Lobster, which I haven't been to in years - it was great =) Saturday we went to the
Mutter Museum
in Philly, which is this great museum that is full of medical anomalies and is used to teach the human anatomy. There is this collection of skulls from around the world, so you can see the differences, and there's a TON of scary looking this submersed in jars (conjoined twins, babies born with ALL SORTS of disformities. (is that a word? because blogger is telling me it's not haha). Anyways, after the Mutter museum, we switched gears and met up with my dad (luckily, Kels was with us to help buffer the awkwardness) and he took us to Charcoal Pit for dinner. After dinner he dropped the three of us off, and we went to see a movie with my mom - The Heartbreak Kid .. it was really funny, as long as you're not one of those people who needs movies to be extremely realistic. It was definitely worth the money, lots of good laughs.
Sunday morning we left DE and headed to Philly to meet up with Em's best friend Lindsey. She took us to this great place for lunch, and I had an excellent tomato, mozzarella, and basil salad. Yum, then we went to the AIA bookshop, which had the coolest stuff ever. I need to go back there at some point because I already have a birthday present picked out for a certain someone :D It was great to see Lindsey, and her pooches (sorry again, about the accident in the apartment!!) but we had to get going because Em's family had a big dinner Sunday night. Em's parents recently returned from China, so we heard all about that and everything else that's been up. Mrs. Galbraith bought me this beautiful Love Ball from China - I guess the story is that the girls used to make them (they're beautiful, and very ornate) and give them to the boy, and if the boy wrote her a love note back, then they were to be engaged. Cute =)
Monday was another great day, minus the part when we went to the DMV and sat for over an hour. Monday afternoon BEAKER JEAN met us at Target, and her and I went to Starbucks for coffee and catch up... it was sooooo nice to see her. She came to dinner with us and Em's parents, and then afterwards we went back to Em's and played around with her brother's Wii. (Beaks was the best at golf.. let me just say ;-)
Tuesday morning we woke up, drove home, had a tiny mishap that set us back, and arrived home after 13 hours on the road. We saw this sunset coming into Greensboro, and the picture, of course, does it absolutely NO justice. Sorry that it's blurry, but it kind of shows how the sky looked like it was exploding red and orange!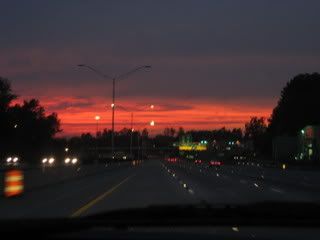 Enough for now.
Love everywhere,
Kristen Nicole